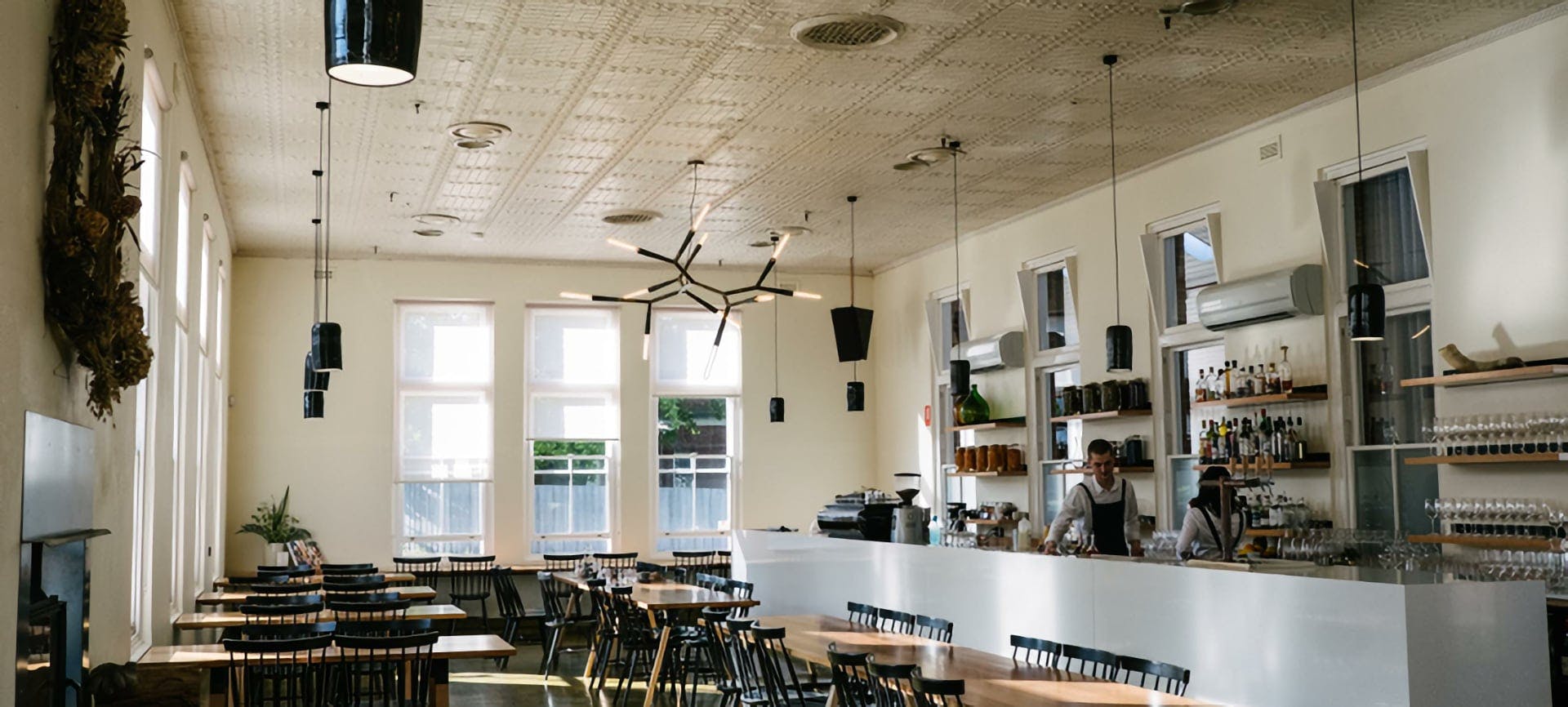 About the restaurant
The next chapter in the agrarian journey began in 2015 after Rodney and Séverine fell in love with the beautiful Bronte building in nearby New Norfolk's Willow Court - the town's old mental asylum. Built in 1925, the former ward is a vast expansive space, large windows and high ceilings lined with the original pressed metal, the building begged to be filled with diners. The Agrarian Kitchen restaurant was born in June 2017.
A truly local food experience is the essence of The Agrarian Kitchen. Our set menu sources ingredients from the land around us, whether it's our own garden, the community garden across the road or a network of local gardeners, producers, farmers and fishermen.
It is weeks, months and sometimes years in the making beginning when seeds are planted. Fruit and vegetables enter the kitchen within minutes of harvest. Fishermen deliver their catch sometimes hours out of the water. Meat comes as a whole carcass to be hung and broken down as required. In the kitchen, these ingredients meet the fire power of the handcrafted wood-fired oven, grill and hot-smoker, all built from old bricks off the Willow Court site by master craftsman Dennis Benson.
It is here that our kitchen team, led by Head Chef Stephen Peak, practice the ancient crafts of cheese making, whole animal butchery, smoking, fermentation, wood-fired cooking, bread making and charcuterie. We are proud to serve you produce that is at its best today through our set menu dining experience.
Waste is of utmost importance, with excess produce of the season receiving special treatment, being pickled, jammed, fermented, or cured. The remaining food scraps are composted by the garden team to be returned to the garden to produce future crops.
The philosophy also extends to what is in your glass, where a responsible radius is applied to our selection of wine, beer and spirits by Beverage Manager Alex Keene, all the while dipping into the supply of produce and foraged local ingredients to create the restaurant's own syrups and fermented concoctions for cocktails and non-alcoholic options.
In the light bathed dining room, Restaurant Manager Laura Cuthbert leads the team of enthusiastic knowledgeable staff to deliver a smooth, informative and unpretentious experience to our guests.
The vision is to create a space where local, seasonal produce is celebrated. Where the diner experiences a true sense of place through the food they eat. Where the ingredients speak for themselves with little adornment. At the core of our offering we hope the integrity of the ingredients speak for themselves.