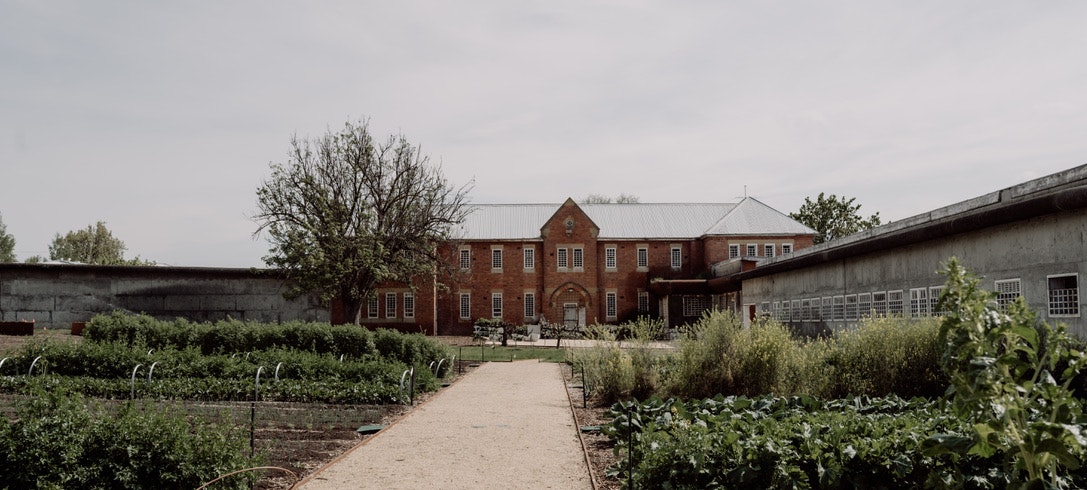 About The Agrarian Kitchen
All good things evolve over time and The Agrarian Kitchen is no exception. It all began back in 2008 when Rodney Dunn and Séverine Demanet opened The Agrarian Kitchen Cooking School and Farm within their home in The Old Schoolhouse in Lachlan. It was borne from a longing to connect back to the earth, and to grow and cook authentic food with real ingredients. It has welcomed guests from around the world to share in this experience, for good food is even better when shared.
The next chapter in the agrarian journey began in 2015 after Rodney and Séverine fell in love with the beautiful Bronte building in nearby New Norfolk's Willow Court - the town's old mental asylum. With vast expansive space, large windows and high ceilings lined with the original pressed metal, the building begged to be filled with diners. The Agrarian Kitchen restaurant was born in June 2017.
The kiosk opened in 2020 as a casual outdoor food offering, still utilising the amazing produce in pastries, cakes, sandwiches and salads. The vibe on the front lawn is picnic tables and rugs, with dogs and children in equal measure soaking up the sunshine.
The next evolution was to bring everything together. After operating the cooking school and farm out of what is also their home, the idea to move the cooking school and garden into Willow Court was planted, like a seed that has taken root and slowly grown. The original cooking school closed its doors in April 2021 after 13 years of operation, but, in the empty rooms of the Bronte building a new kitchen has been constructed, utilising the knowledge of years of previous classes to create the exciting next chapter.
Just metres behind the Bronte building, within the walls of an old exercise yard the garden team have been busy creating the new garden. One acre in size, it is a space to grow vegetables for the restaurant, kiosk and classes. It is a space for learning, insight and inspiration, where visitors can take garden tours, cooking classes gather ingredients for the day or where keen gardeners garner knowledge during workshops.
We feel extremely grateful to be able to carry on our stewardship of this land from its first agrarians, acknowledging and paying respect to the Aboriginal people of lutruwita (Tasmania), both past and present and their contributions to Aboriginal knowledge and cultural practices.