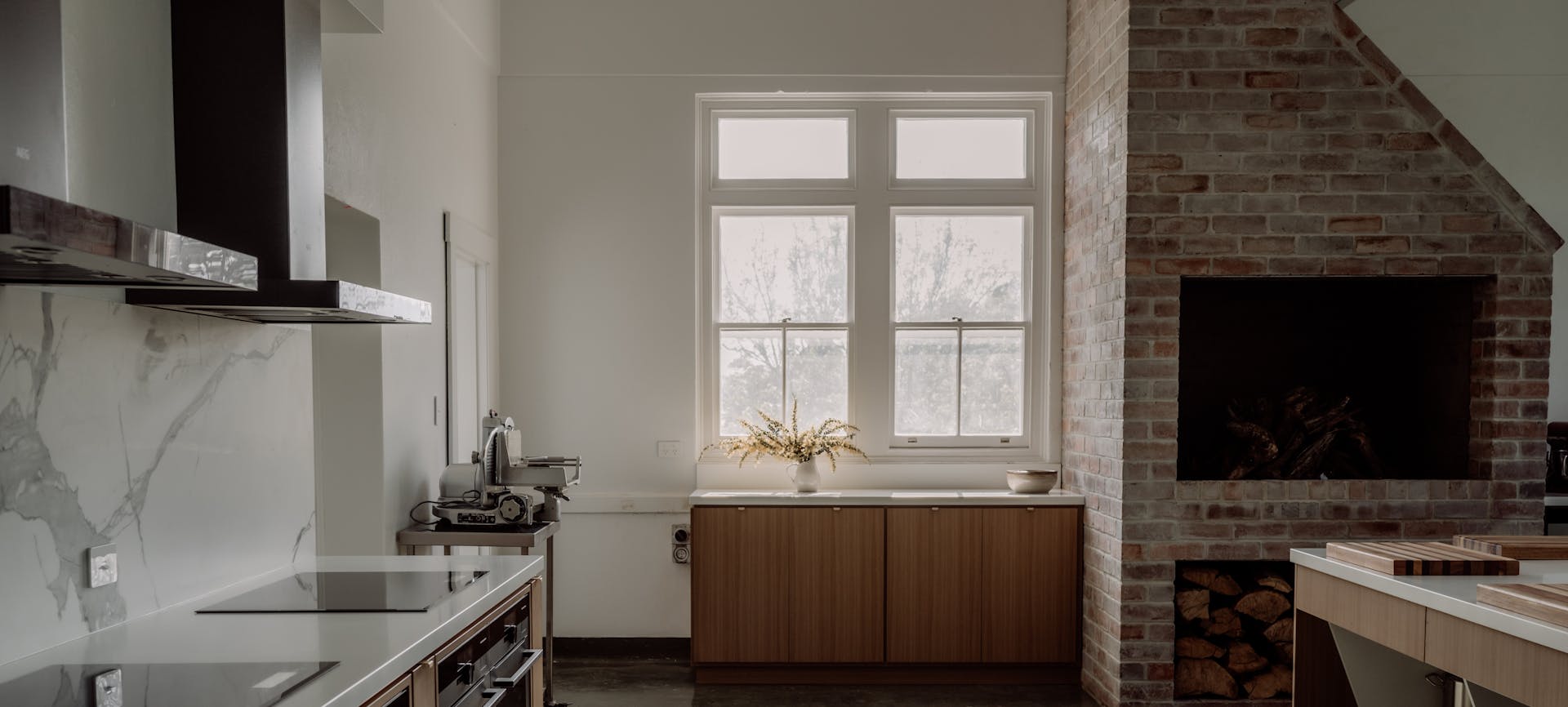 About our class kitchen and classes
Classes are at the core of The Agrarian Kitchen, first beginning in 2008 on our farm in Lachlan. They are first and foremost an experience that incorporates our garden in some way, shape or form, whether simply a tour or harvesting for class use. Our new garden is one-acre in size and is just metres from our building, nestled behind protective walls and is at the heart of our operation. Designed as a space not only to grow food but also to teach others to do the same. Our classes are always immersive, highlighting the beneficial nature of the human connection to nature.
Our newly built class kitchen has been designed from the ground up and accommodates 12 guests in relative comfort being approximately twice the size of our previous space. With loads of natural light and high ceilings it has all the features that made the old space great.
We have even installed a fireplace and AEG have once again supplied us with their premium products, three SensePro 4 zone induction cooktops, six SteamPro Multifunction 25 ovens with Steamify, canopy rangehoods and SousVide PrecisionVac drawer.
Hands-on cooking classes, are always about making food from its base elements, including the best, freshly harvested produce from our own garden, but also local, humanely raised/hunted meat and dairy as well as sustainably fished Tasmanian seafood. Our Agrarian Experience class is the best way to get a taste of the season with the menu crafted from the best of the garden that day. Our masterclasses are for the deeper dive, with everything from learning the butchery elements of how to breakdown a carcass, to making your own cheese, bread, charcuterie or pastry. Our aim is to teach the practical skills that our students can use in their own kitchens.
Our lifestyle classes are rooted in the same desire for us to teach practical skills, but this time it's for other aspects of your life. Classes will include making your own home cleaning products, natural dying techniques, candle making or wreath making from your own garden and surrounds. Everything you need to live an agrarian lifestyle.
Gardening classes have been a natural progression and extension of running our own garden. If you want to build your own vegetable garden from scratch or even learn a few techniques to make your existing garden better, then our Garden Fundamentals is the class for you. Also we will have a range of other specific skill based workshops from grafting fruit trees, propogation, protected growing to composting and everything in between.